Alkaline Water / Water Ionizers
What will a Water Ionizer do for my Health & Body?
Ionized Water is Alkaline for Better pH Balance
Because it is very Alkaline, Ionized Water dissolves accumulated acid waste and returns the body to a proper pH balance. Just by supplying your daily drinking and cooking water from a Water Ionizer, you can restore a healthy alkaline environment in your body.
Ionized Water is a Powerful Antioxidant
Imagine having the ability to take normal tap water and turn it into an antioxidant with a negative ORP*, which slows down the aging process significantly. Millions are spent each year on antioxidizing vitamins such as Vitamin C and E, and enzymes. Yet a glass of alkaline water has more antioxidant power than orange juice! Anti-oxidants prevent cellular and DNA damage by neutralizing free radicals! Of all other types of water commonly available today, ONLY alkaline ionized water is strongly antioxidizing.
*ORP means "Oxidation Reduction Potential"
Most beverages of our daily life are Oxidants
Every sip that you take from your coffee or soft drink is jeopardizing your health and speeding up the aging process. Therefore scientists use a method of measuring antioxidants in liquids through the ORP.
A few samples of beverages (including ORP) so you know what our body is absorbing: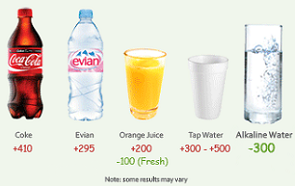 Ionized Water is Great for the Skin
Alkaline Water tightens the skin and removes wrinkles, and helps keeping the skin clear of acne and other blemishes.
Not Only Alkaline Water – But Contaminants Gone!
Harmful components of the water are gone: Fluoride, Chlorine, Sediment, Odor, Organic waste & Parasites, Lead, Copper, Aluminium, Mercury, and Bacteria of all kinds. Optimal water ionizer units use different layers of filtration including high quality activated carbon, ceramic, ion-exchange media, and more – so contaminants never reach your lips!
The Best Water available - Alkaline Water!
---
ALKALINE WATER IONIZERS
Pitcher of Life Alkaline Water Pitcher
The Pitcher of LIFE increases the water pH and adds beneficial minerals (e.g. Calcium and Magnesium) to the water. Moreover, it changes the water's Oxidation Reduction Potential (ORP) from positive which is oxidative, to negative, which is beneficial.
pH Performance: pH 9 - 9.5 (ranges due to source water variations)
Filter life: Replacement filters last 40 gallons or 2 months
PLUS: One year manufacturer's warranty
---
Aqua-Ionizer Deluxe 7 Plate Alkaline Water Ionizer
This water ionizer offers an advanced 7-Electroplate Technology - it has 7 platinum coated titanium, long-life, durable, energy-efficient plates
pH Performance: 4.5 to 11 pH
ORP Performance: +600 to -850mV
PLUS: Self-Cleaning: Unit cleans itself by reversing polarity after each use and auto-plate washing itself every 10.5 gal. PLUS: Limited Lifetime Warranty
List Price: US$1999.97
Sale Price Amazon: only US$895.00 (FREE Shipping)

---
Chanson Violet Water Ionizer
5 Titanuim Electrodes with Nano Plated Platinum
7 pH levels: 4 alkaline water, 1 neutral water, and 2 acidic water levels. 2.5 to 11.7 (depending on source water)
PLUS: Advanced Self-Clean Function
PLUS: 5 Years Warranty
Price: US$1295.00 (Free Shipping)